The morbid wonder of Takato Yamamoto's Heisei Aestheticism.
On January 15, 1960, amidst the quiet hills and rolling waves of Japan's Akita Prefecture, a still unknown Takato Yamamoto was born. It had been a turbulent road for Japan up until this point; a nation suffering still from the throes of the Second World War ended only a decade and a half earlier by the consumptive hand of two nuclear devastations. Yet, this was not the Japan Yamamoto would come to know. It was a Japan of old, a bygone era, though one whose ethereal pall would forever shroud the nation with a melancholic disquietude. Death had seized the nation by its throat and by the time it relinquished its stranglehold, the "Japanese Miracle" of the 1950s had come to emerge in its wake. Even if it was only momentary, there were budding slivers of life that nonetheless persisted amidst the entropy.
Thus came the beginning of the Heisei era under Emperor Akihito's rule following the death of Hirohito, an era filled with the same optimism as its eponymous heisei derives from—an era of "peace everywhere". This is the cultural context in which Takato Yamamoto would find himself situated within. Blooming forth from the lingering stench of death were the fruits of life and rebirth that punctured the veil of melancholy with ever-growing rays of hope. It is in this liminality, through the wintry decay that must precede the budding flowers of spring, in which Yamamoto carves his distinct niche of Heisei aestheticism.
Yamamoto's Heisei aestheticism combines elements of Japanese ukiyo-e along with the Western influences of the Decadent movement (as well as its offshoot, the Symbolists), and Art Nouveau. On purely a visual level, the combination of these genres gives rise to a style focused heavily on the macabre, the beauty and violence contained within, and the flouting of cultural taboos—encapsulated within an uncanny pseudo-realism that is, at once, all too real, whilst still alerting one's better self to the fantasy it resides within. The moments captured within Yamamoto's artworks depict a brief pause—a tenuous tranquillity that threatens to be devoured in the moments which directly precede or follow what the viewer observes. While his pieces are oftentimes violent and visceral, the muted subjects Yamamoto paints do not react with any apprehension or fear towards the brutal scenes they find themselves in. Indeed, they instead maintain an air of serenity and neutrality; though maimed and injured, their bodies have not caved to what their biology demands of such grotesque violence: submission. They stand in defiance, unwilling to keel, though similarly refuse to pride themselves in their resilience. They are not the subject of pity, nor praise: they reflect the human condition.
While gore is not a feature of traditional ukiyo-e art, the eroticism and focus on the female form (although, Yamamoto also painted men) was. Most illuminating to his works, however, may perhaps be found within the etymology of the ukiyo in ukiyo-e. Ukiyo (浮世), translating roughly to "fleeting world", is homophonous with an ancient Buddhist term, "this world of sorrow and grief" or "melancholic/miserable world" (憂き世), in reference to the mortal plain from which Buddhists seek deliverance. Though with the advent of Ukiyo culture (and subsequently ukiyo-e) emerging within red-light districts during the Edo period, the term "ukiyo" became increasingly associated with urban debauchers and hedonistic pleasure, lending it its pornographic reputation in art. In the present day, though largely defunct, ukiyo refers to a state of mind dedicated to living within the present and detaching oneself from the difficulties of life.
The paintings are motionless and forever avoid succumbing to their violent ends; they maintain a shred of permanence in an impermanent world yet disappear all the same. Yamamoto's subjects are nondescript, ordinary beauties, whose forms are easily recycled and replaced in each of his works. Whilst these bodies comprise the central focus of his work, they do not have any identity of their own; the imagery is always unique, but the fictional lives contained within each piece are nameless, near otherworldly entities, who vanish as soon as we neglect to perceive them. The impression left from this art is not the body itself nor its eroticism, but the way in which it serves as a vehicle to convey concepts that transcend the boundaries of any individual mortal life. Beauty and horror, violence and serenity, love and anguish—all inflicted upon a mortal body which can do no more than endure each blow. Like the figures, this is not to be lauded or loathed, it is not to be admired or feared: it simply is, and it always will be.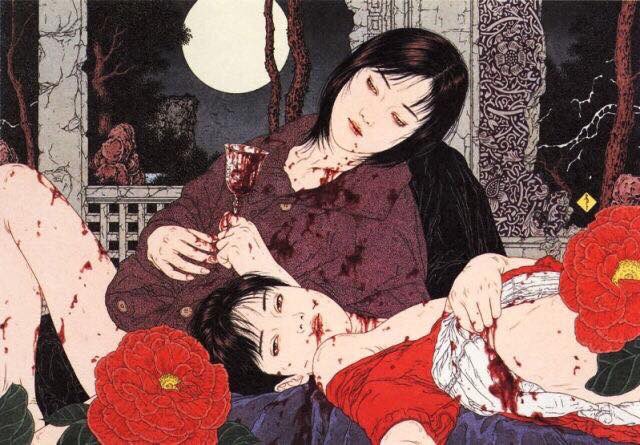 When examined this way, the transient, erotic, and raw (yet subtle) violence laden within Yamamoto's art can be understood as a unity of these diverging meanings across time. The figures exist solely within the context of their art, inhabiting bodies they know will soon be ravaged by the destruction surrounding them. Often, these figures avert their gazes from the viewer, appearing lost in momentary thoughts we will never be privy to, though desperately wish to unveil; other times, they meet our gaze directly, eroding that barrier which separates art from reality, beckoning us to ask: where is the "I" in this fleeting world? It stares at us, searching for an answer, and where the art can be still in this rumination, we cannot. An eerie unease sets in upon this realization. Am I examining the art, or has the art come to examine me?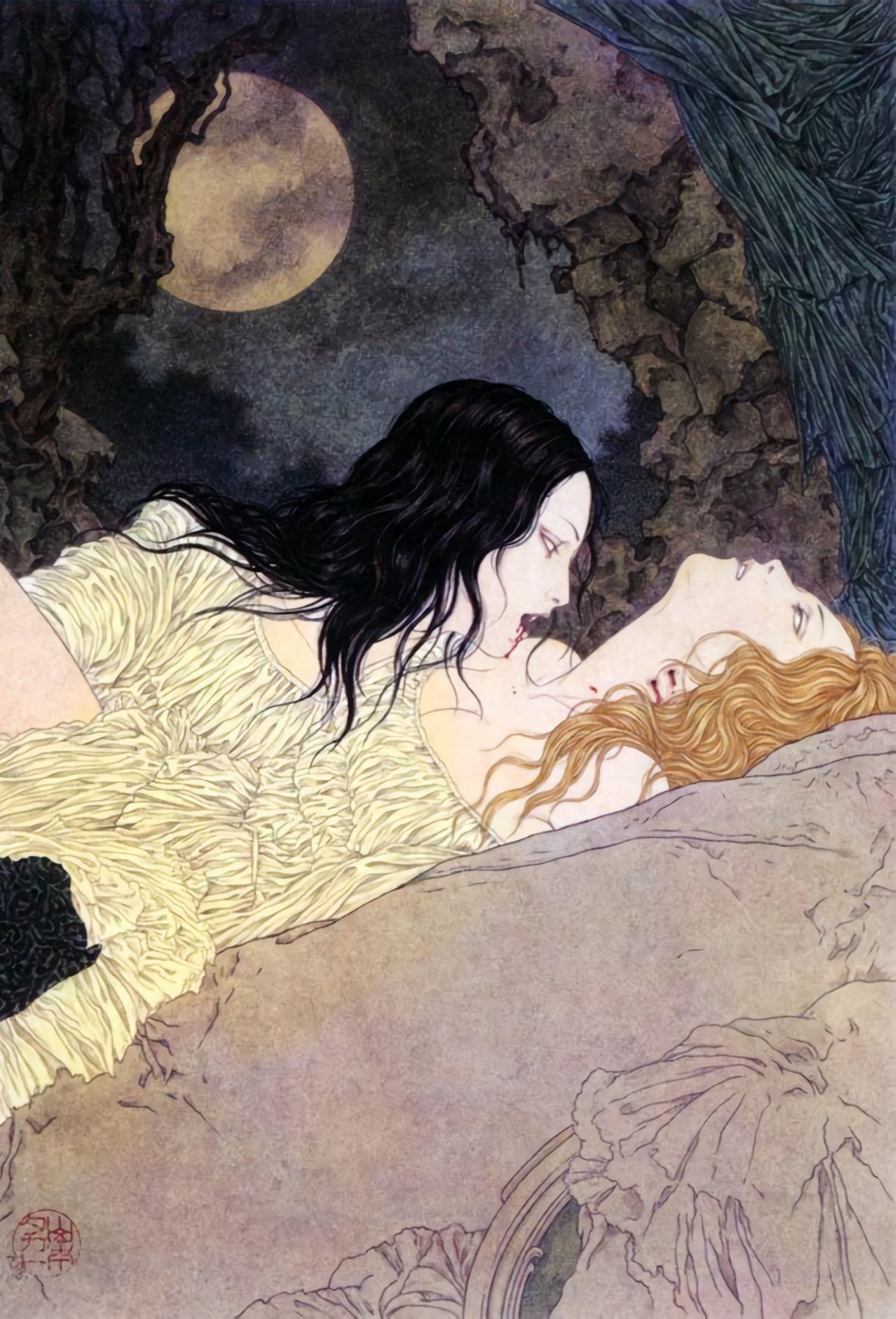 Ukiyo. It is a world of sorrow and grief within Yamamoto's art, but it is not solely a world of sorrow and grief. One may desire liberation from it, but the melancholic liminality intertwined with the beauty of his works signals that this time arrives for all. It is not simply a world of sorrow and grief, but a world of transience; and, contained within that transience, is the present which swells with the wonders only mortality can bring. Like the subjects Yamamoto features, sometimes we can do no more than to observe that right now we are living and someday we will not. We should not praise its birth nor mourn its loss, for it will come and go—but there is always beauty to be found within the pain we endure.